HAUS GABLES
---
Haus Gables is one of a handful of residences in the country made of cross-laminated timber (CLT), an exceptionally strong wood material produced by gluing together layers of lumber that alternate in direction. A long-standing research project on roof typologies found in the American South informed this proof-of-concept. Haus Gables is a cluster of six gable roofs, combined to form a single roof. In an attempt to rework spatial paradigms of the past, such as Le Corbusier's free plan and Aldof Loos's raumplan, MALL offers the roof plan as a way to organize architecture. The roof plan establishes rooms, catwalks, and double height spaces in the interior by aligning these spaces to ridges and valleys in the roof above. In this case, the floorplan is a result of the roof.

From a curb-side view, an asymmetrical and unfamiliar form replaces the traditional gable elevation house, as if the usual form were clipped. Strange profiles emerge on all four elevations as the six gable roofs are cut at the perimeter's massing. Other slight alterations to the ordinary include roof pitches which are much steeper than those found in industry standards. The house, which sits on a 24-foot-wide plot with a width of 18 feet, the same size as a single-wide mobile home. The uncharacteristically slim home generates ideas for the applicability of the roof plan to denser urban environments.

All exterior and interior walls, floors, and roof are made of CLT panels. Custom-cut, hoisted into place, and assembled in fourteen days' time, the CLT in Haus Gables enables a solid house that eschews stick frame construction. Structurally inventive, the panels also promote a monolithic view of the material from the domestic interior.

The project further engages in the conceptual exploration of materiality through a series of faux-finishes that clad the exterior and parts of the interior in opposition to expectations. Black terrazzo is not poured in-place and polished, but applied as a thin tile, while oriented strand board (OSB) is replaced by ceramic tiles in the image of OSB. The marble finishes in the bedroom and adjacent bathroom are made of unlikely materials, including vinyl and cartoonish drawings, rather than the oft-desired, real, Italian marble. These faux finishes that cover the interior environment seem to indicate spatial divisions, when in reality they do not correspond to the actual boundaries of any room. On the exterior, two sides of the house are covered in faux-bricks made of stucco. Haus Gables undertakes an old tradition of faux finishing in the American South, historically stemming from an inability to afford precious materials, and the subsequent desire to "fake it." With the use of unconventional materials and an unusual roof design, Haus Gables is an exploration of new ways that form, spatial organization, and material might function in a home.
---
Location: Atlanta, Georgia
Date: 2018
Type: Single Family Residence
Size: 2,200 sq ft

---
CREDITS
Project Team: Jennifer Bonner, Ben Halpern, Benzi Rodman, Justin Jiang, Dohyun Lee, Daniela Leon

CLT Manufacturer: KLH USA

CLT Installation Specialist: Terry Ducatt

Structural Engineers: AKT II; Bensonwood; PEC Structural; Fire Tower

Civil Engineer: Crescent View Engineering

Associate Architect: Olinger Architects

Façade Research: Alex Timmer

Wood Products Specialist: 7 Seas Group USA

General Contractor: Ryan Locke, Principle Builder's Group

Landscape Design: Carley Rickles

Mechanical Systems: Emily McGlohn

Interior Finishes: Coverings Etc. (Eco-Terr tile); Stone Source (Ornamenta Artwork tile); RPS Distributors (Vives Ceramica Strand-R tile); Rabern-Nash (Johnsonite & Forbo tile)

Wall Assembly: Vapro-Sheild, Vapro-Mat, Kingspan Kooltherm K-20 insulation board

Sub-Contractors: Cool Roofing Company; Natural Plastering Inc.; RayPaul Coating, Inc.

Photography: Tim Hursley; NAARO



© NAARO



© NAARO



© NAARO



© NAARO


© NAARO



© Tim Hursley



© Tim Hursley



© NAARO


© NAARO



© NAARO



© NAARO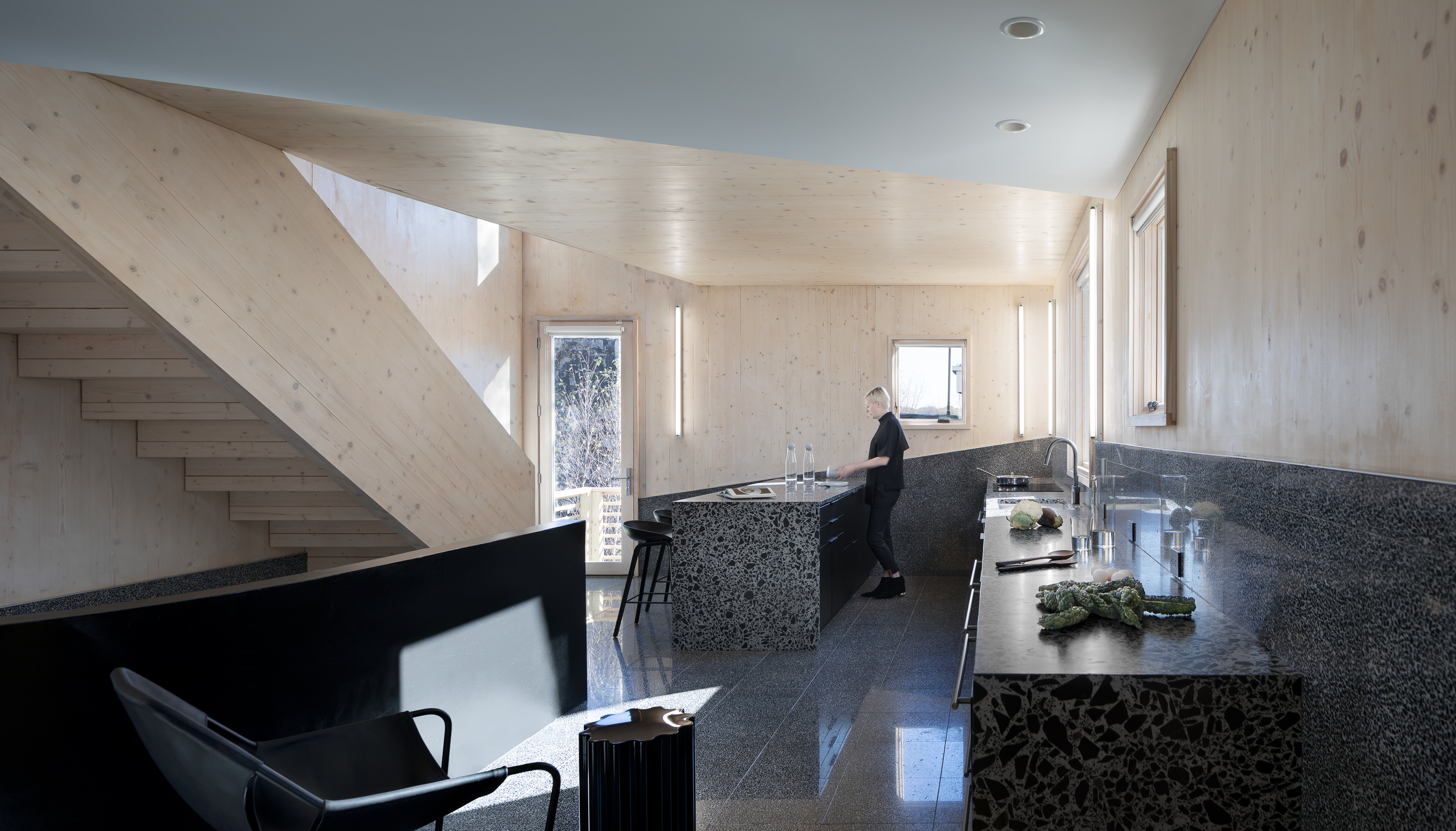 © NAARO



© Tim Hursley







THE DOLLHAUS
---
The Dollhaus reimagines the domestic interior with cut outs of boldly patterned materials, saturated color and a childlike view of architecture. Additionally, The Dollhaus, mimicking a suburban house, is a representation of ordinary architecture; filled with humor and the idiosyncratic, it has the capacity to call our attention to past memories and spatial relationships. There is a pluralism at work in this study, amidst the project's intended banality is a common language for connecting other demographics. Dollhouses are playful and most of all relatable. They defer to the imagination with a deep possibility for the reinvention of lifestyles.

Intentionally scaled at 1:12, the universal scale for traditional dollhouses, the model is constructed of Baltic Birch plywood, paper card stock, and brass hardware hinges. One elevation is split in half allowing for a doors-open view of the interior roof surfaces and rooms. Working closely with food photographer, Adam DeTour, The Dollhaus is artificially lit with syrupy pink and blue lights and underscores the phrase "playing house."

Location: Cambridge, MA
Date: 2017
Type: Model, Scale 1:12
Exhibitions: Adjacencies (Yale School of Architecture) 2018;
The Last Four Years (RISD Architecture Gallery) 2018;
Chicago Architecture Biennial "Make New History" 2017

---
CREDITS
Project Team: Jennifer Bonner, Benzi Rodman
Photography: Adam DeTour



DOMESTIC HATS
---
Domestic Hats explores ordinary roof typologies and reconsiders the role of the massing model in architectural representation.

A quick drive around a few neighborhoods demonstrate stylistic differences in the domestic architecture of Atlanta. Arguably the single most common element of these houses is the roof. Whether located in English Avenue, Old Fourth Ward, or Ansley Park, shared rooflines crisscross neighborhood boundaries. Ordinary and simplistic, yet highly repetitive, gable and hip roofs dominate the scene while butterfly and mansard roofs represent a rarer species. Dormers, A-frame, and shed roofs are combined to make a complex system of functional rooftops with countless variations. These copy-paste forms not only populate the housing stock, but represent house figures and house shapes widely accepted by the public.

Massing models are usually small in size and the result of a quick, iterative design process by the architect. They represent the schema, the diagram, or a proto-architecture. Lacking detail and often made out of a singular material, massing models distinguish differences in a volumetric study—"slightly thinner", "no, a little longer", or better yet, "let's make it fatter." Domestic Hats delights in these tendencies to engage multiples, but rejects the constraint of smallness. For these purposes, the massing models are scaled up to an awkward size, they are not easily transportable, and they don't quite fit in the frame of our foam wire cutter. The massing models to be included in the installation are not large enough to be considered a pavilion, nor do they sit comfortably on a client's conference room table. Intentionally inflated, these massing models merely represent themselves. No longer a representational stand-in for something else, they reveal new hats for consideration in domestic architecture.
---
Location: Atlanta, GA
Date: 2014
Type: Research/
Exhibitions: Domestic Hats (The Goat Farm Arts Center) 2014; The Last Four Years (RISD Architecture Gallery) 2018; Inscriptions (Harvard GSD) 2018
---
CREDITS
Design Team: Jennifer Bonner, Ainsley McMaster, and Son Vu
Fabrication Team: Ishrat Lopa, Jessica Greenstein

Funding: GA Tech and Goat Farm Arts Center Arts Investment Package

Photography: Caitlin Peterson; Patrick Heagney
HAUS SCALLOP, HAUS SAWTOOTH
---
Faux Brick, used two drones to scan the rear elevations of Mies' houses, which were built for two separate clients on adjacent properties. Like a pair of synchronized swimmers, the drones began their flight path in the southwest top corner of each house systematically scanning the brickwork course by course. Haus Lange and Haus Esters share materiality, proportion and large picture windows. The mass and forms are eerily similar, but are not twins. The bricks are real, but are not load-bearing, rather purely elevational and feel fake.

Inspired by this performative intervention, the work on display in the gallery asks questions about the role of contemporary renderings in representation, and places emphasis on the architectural elevation. Footage of the original performance features alongside live drone scans of two new houses, Haus Scallop and Haus Sawtooth. Parapet shapes—scallop and sawtooth—become the defining element for the pair of large models, while easily interchangeable white bricks with pink grout, split fieldstone, and architect's blue foam applied to their facades replace Mies' bricks with colorful, rendered alternatives. Here, poorly tiled bitmaps combined with misaligned bump maps (digital modeling techniques used in contemporary architectural renderings) inform a collection of new materials. Examples of material renderings and crenelated elevations are hung on a gallery-sized pegboard to demonstrate the exchangeability of these test renders. The exhibition delights in excessive amounts of elevations. Together, these elements suggest: "Let's try to build renderings!"
---
Location: Krefeld, Germany
Date: 2017-2019
Type: Research
Exhibitions: Haus Scallop, Haus Sawtooth (Armstrong Gallery, Kent State CAED) 2019

---
CREDITS
Design Team: Jennifer Bonner, Frankie Perone, Alexandru Vilcu

Fabrication and Production Team: Frankie Perone, Veronica Smith, Alexandru Vilcu, McKayla Tyrrell, Daniel Garcia, Charles Kim, Tammy Teng, Peteris Lazovskis

Research Assistant: Daniela Leon

Faux Brick Film: Ryan Tyler Martinez

Faux Brick 2 Film: Trevor Palocsik, Amanda Harrer

Drone Photography and Data Collection: SpectAir, Germany

Partners: Kunstmuseen Krefeld: Museum Haus Lange, Haus Esters

Funding: Harvard GSD Dean's Annual Research Grant Award Program (2017), Kent State University CAED (2019)

Photography: Field Studio

© Field Studio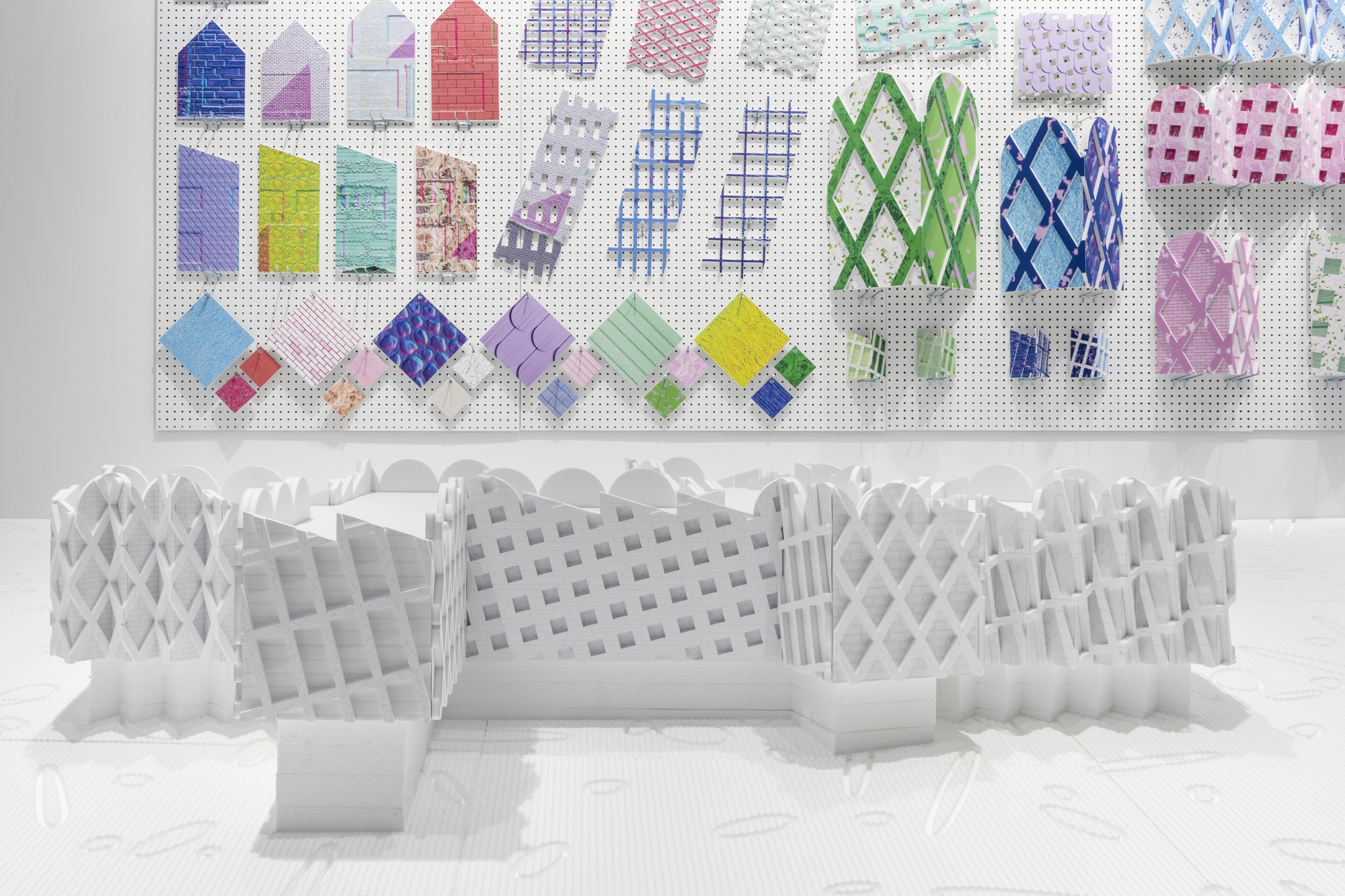 BEST SANDWICHES
---
Borrowing from past and recent history's best practices for assembling sandwich architecture, Best Sandwiches is a design and research project in search of novel spatial stacks. Awkward middle levels are piled up and squeezed together resulting in messy figures between two slices of architectural bread. Extrusion is not entirely off-limits, but used sparingly.

The nine sandwiches on display present a close reading of several classic sandwich types: the grilled cheese, the BLT, the hamburger, the Dagwood, and the submarine, to name a few. Color and the deployment of many types of apertures are intentional. They promote the legibility of repeating layers found in a high-stack Dagwood sandwich or suggest the vaguely familiar melting cheddar found in a grilled cheese sandwich. Color is a necessity for reading Best Sandwiches.
---
Location: Boston Date: 2016 Type: Research Exhibitions: Best Sandwiches (pinkcomma Gallery), 2016; Currents: Expanding Fields (Lexington Art League), 2017; Inscriptions (Harvard GSD Druker Design Gallery), 2018
---
CREDITS
Project team: Jennifer Bonner, Justin Jiang, John Going
Production assistant: Steven Meyer
Rendering: Kenneth Robin
Photography: Adam DeTour
---