Title: Faux-Brick
Location: Krefeld, Germany
Date: 2017-2019
Project Type: Research and Design


Faux Brick is a research project that examines the use of exterior faux finishes in Mies van der Rohe's villas, Haus Esters and Haus Lange, to discover emerging questions of materiality and representation in contemporary architecture. A timely research investigation preempting the 2019 Bauhaus Centennial, this research project examines the use of "faux brick" in a pair of houses in Krefeld, Germany constructed from 1929-31. Mies's decision to use large repetitive picture windows in both houses forced the façade to be primarily made out of steel, therefore the brick façade is not acting as a structural solution, but merely a cladding. Here, I define "faux" not in the sense of fake-material, but as a fake structural strategy for the buildings envelope. Mies's bricks are real, authentic physical materials, not the thin brick veneer used prolifically in the domestic and commercial buildings of suburban America, yet they are acting as a veneer to the structural integrity of the building.

Lessons can be mined from Mies's use of faux brick when imagining material thinness or fakeness in architecture today. In the field, the research will begin by flying two drones in sychronization along the back elevation of both houses in a robotic fashion. The drone will begin its flight path at the top of the house and move downwards by 65mm (a coursing of a brick thickness) increments until it reaches the bottom of the house. Once this photographic data is recorded onsite, the information will be brought back to the studio to produce a series of drawings and models with the aim of uncovering novel drawing techniques for designing faux-brick facades.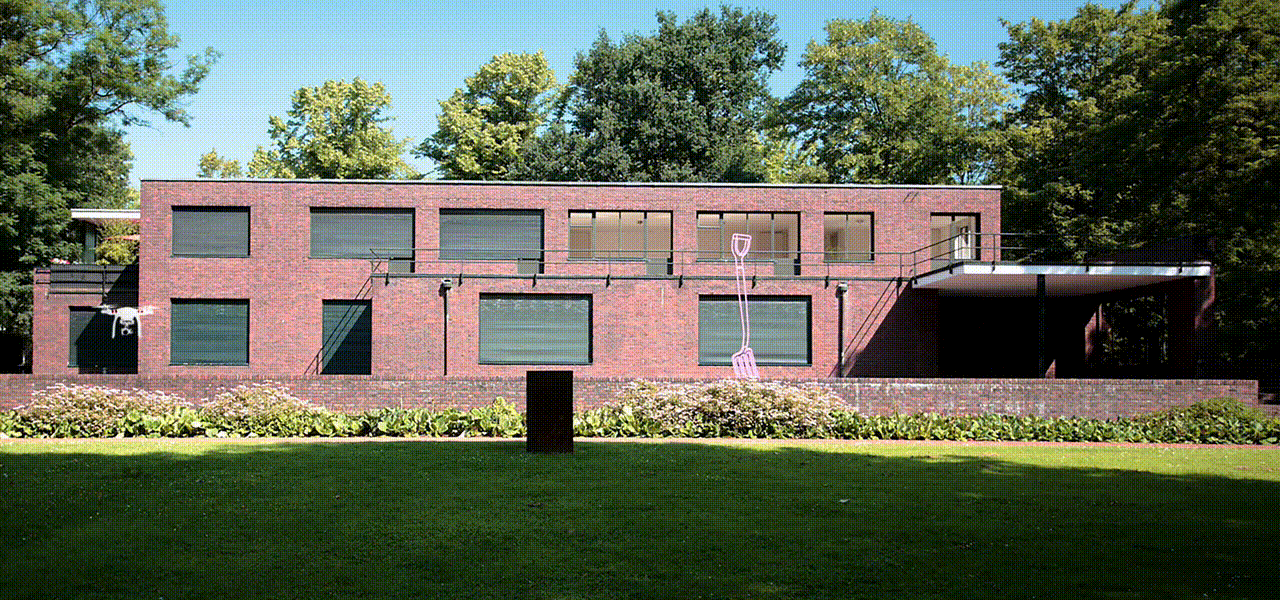 Design and Fabrication Team: Jennifer Bonner, Frankie Perone, McKayla Tyrrell, Alexandru Vilcu, and Daniel Garcia
Research Assistant: Daniela Leon
Drone Photography and Data: SpectAir, Germany
Partners: Kunstmuseen Krefeld: Museum Haus Lange, Haus Esters and The Ceramics Program, Office for the Arts at Harvard University
Ceramics Consultant: Kathy King, Director at the Ceramics Program
Date: 2017-2019