ART PAPERS
---
ART PAPERS is a contemporary arts magazine in print publication since 1977 located in Atlanta, Georgia. In summer 2016, Victoria Camblin asked me to guest edit a special issue on architecture and design. Remembering my coveted 1987 issue editing by Merrill Elam, I eagerly agreed to tackle such a project. I worked closely with guest designer, April Greiman who altered the format and size of the publication, selected the cover material, and most importantly, insisted that we refer to the first names of our contributors as a graphic treatment. I commissioned over thrity-five female contributors whose text, drawings, design, curation, criticality, and imagination is included in this issue. The LA Forum threw a lauch party poolside at the Pink Motel (without water).

---

Letter from the Editor:

As a Southerner working in Los Angeles in 2011, I bought a single sheet of rubber measuring 60 feet long by 20 feet wide and built an indoor pond at a gallery in Hollywood. As an Angeleno, I was wasting precious water on the construction of a wading pool that also happened to leak on opening night, but no one seemed to care. I was at work on the swimming pool typology—an obvious LA icon for examination. My own interests in water, and ART PAPERS', carry onward to this special architecture and design issue with a focus on the West Coast's cultural nexus: Los Angeles.

The pool conjures up many LA knowns: film, case study houses, rooftop parties, rec centers, hotel lobbies, and other watery spaces such as car washes, reservoirs, and the LA River. A 1970s magazine dedicated to "gourmet bathing" is revisited in Mimi Zeiger's interview with the founder of WET(p. 4). Architectural photographer Julius Schulman doubles down on the image of modernism ingrained in our minds by the weighty pool reflections of Pierre Koenig's iconic Stahl House; photographer Monica Nouwens subverts this impression with a portrait of a dry pool, captured in Twentynine Palms (p. 21). Primetime soaps such as Melrose Place suggest that the lives of all residents of LA apartment buildings unfold around cool communal courtyard pools; here, Bestor Architecture explores this mythology in a series of collages that riff on a housing development that includes eight rooftop and six ground-level pools (p. 36). Low Volume, a speculative proposal by design collaborative BairBalliet, delivers a two-for-one: a pool that is both above- and in-ground, planted in the front yard of the MAK Schindler House (p. 58). Just as John Portman, Atlanta's own starchitect, flooded his1976 Bonaventure Hotel with a series of shallow reflecting pools as a backdrop to the lobby's interior, the architectural duo Pita and Bloom flood the LA River bed with Flat Pools, a series of colorful 2-D figures that bring the basin out of the background and into the city. The Kahlil Joseph-directed video for LA rapper Kendrick Lamar's "Swimming Pools (Drank)," is a cinematographic paean to the "slow plunge" water scene; artist and director
Floria Sigismondi, known for such films as Runaways and music videos by artists from the Nine Inch Nails to Justin Timberlake, explores her own aquatic vision in this issue's Glossary section (p. 67).

This special issue of ART PAPERS explores the Los Angeles landscape not only in content, but in form. Our guest designer, LA-based April Greiman, experiments with the shape of the magazine to extend the pool thematic into its material supports, diving into content using immersive fold-outs and metallics. A series of Pool-dles—drawings of historically odd pool shapes such as Thomas Church's first kidney-shaped pool (1948), and the California-shaped one in the backyard of Charles Jencks and Buzz Yudell's Elemental House in Santa Monica—created by WELCOMEPROJECTS animates the issue's conceptual and formal concerns
on its front and back covers. It seems as if the virtues of the pool—for swimming, or for collecting resources, thoughts, or images—is a vector that cuts across social, cultural, and economic differences, or flags these differences up, such that they might be discussed. We offer LA as a case study in the designed domestic and urban environments that should give us clues about America at large. The cleansing effects and the nourishing and communal aspects of the pool may serve us well in the possibly stifling political climate of 2017.
---
ART PAPERS, Issue 41.01
Date: 2017
Guest Editor: Jennifer Bonner
Associate Editor: Claire Barliant
Guest Designer: April Greiman
Executive Director:
Saskia Benjamin
Editor + Artistic Director: Victoria Camblin
Cover: Laurel Consuelo Broughton, WELCOME PROJECTS
Issue Launch: w/ LA Forum
Photographs: Monica Nouwens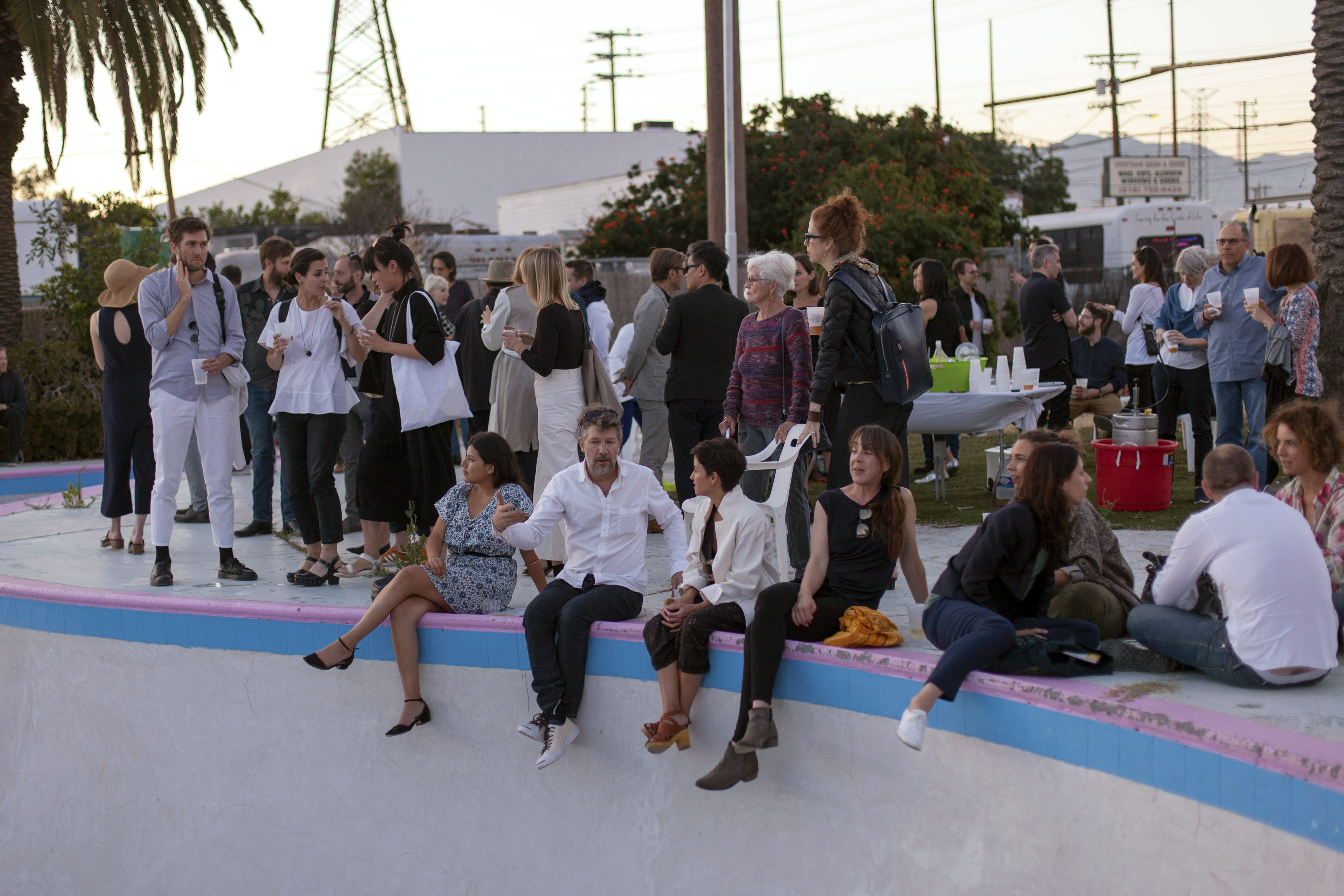 © Monica Nouwens